Snapchat
Snapchat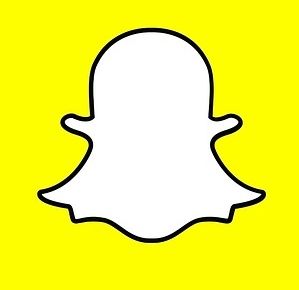 Snapchat
Snapchat is a well known, fairly new interface that allows it's users to connect with their viewers through video, picture, and messaging. This multimedia mobile application has been increasing in popularity since 2011, when it was created by Reggie Brown, Bobby Murphy and Even Spiegel. Snapchat prototype was created as a class project for Stanford University.

[[include :snippets:image" style="border:1px solid #999;"]]
Layout and Design
When logging into snapchat it's already on back facing camera view. A- Snapchat logo or a personalized bitmoji followed by a search box. B- flash indicator and a toggle/switch for the camera. C- message icon D- stories of other users. E- Snap recorder button. Snaps are pictures or video messages made on the application. F- previously saved snaps and access to camera roll. H- Camera flip
When users click on the bitmoji or the snap logo on the top left of the application a drop menu covers the screen.
H- snap code, it's the main feature of the drop menu, The snap code's black dots are personalized like a barcode, that when scanned directs other users to
I - a box to instantly add. Users can click on the snap code to enlarge it, when users do this it make it easier for other users to scan the code. When enlarged, it also gives users
J- option of customizing the snap code by adding a snap, users can not upload a picture, the snap has to be taken at the moment.
"Added Me." When clicked on it shows all the people that have added the user. It also tells users what method people used to follow under the person's name. It's only three ways a person can follow another individual, by phone number, username or snap code. Next to the person's name it also gives users the opportunity to add back.
"Add Friends." When clicked on you have the opportunity to add frend that are contacts in phone, add by uploading a person's snap code from camera roll, or quick add.
"My friends." When "My Friends" is clicked on shows all the people followed by the user. If the user can click on an individual's name and see their snap score the individual is following the user too but if the snap core is not visible, then the user only follows them.
K- settings. In setting is all the all the users personal information, privacy setting and snapchat's policies, terms and licenses.
The snapchat record button. This button allows you to take picture or a recording both of which are called a snap.
When the snap is made K- gives users have the option of uploading it to their story, sending it to a friend or both by clicking the arrow to choose receivers.When users click multiple individuals they can decide rather to put them into a group chat or send individually. L- allows users to upload snap instantly to their story. O- allows users to save their snap. M- if the snap is a picture, this timer controls how long users followers will be allowed to see the picture. N- draw. P- add text. Q- add emoji or bitmoji. R- Create users own emoji. This is a new feature. It allows users to cut out a piece of a any nap they make and copy it. S- disregard snap.
When users tap on the homescreen various filters pop up.
When users tap and hold the home screen while a song is playing, snapchat shazam it.
When users double tap the home screen it switches back and front face camera.
When the search box is clicked the user is able to search people they follow.
When searched, the user is allowed to see a preview of their last snap inside a bubble to the right of the individual's name, that when clicked on allows user to watch the individual's snap or you can click on the individual's name which takes you into their direct messaging. The search also have a quick chat feature that allows you to message you previous or most snapped by user spappers. Other features are quick add, contacts and new friends, which allows access to recent followers.
When The message icon is clicked or user swipe right, user's screen is now in their directed messaging.
T- allows you to start new chats. When inside a chat U- is a side menu. It allows you to seen snapcode, edit the name of the snapper and remove or add friend. V- user's phone camera roll W- snap call X- record snap Y- video calling Z- emoji or bitmoji. If both users have bitmoji then snap will link them together. AA- exit message. To save messages users can tap and hold message or else they will disappear.
When the story icon is clicked or user swipe left, user's screen is now in stories.
If user clicks on my stories it allows the user to see all the snaps made with in 24 hours. AB- saves the entire story. AC- upload snap to story. AD- drop down menu of each individual snap of user's story. When the user clicks on one of their individual snaps you can drag they can drag the screen up to see
AE- how many viewers viewed their and who the views are. It even showers what viewers you follow back (friends) and what views are just following you (other snapchatters). AF- shows the snappers that screenshotted a post. AG- allows the user to delete the snap from their story. AH- allows the user to save this individual snap. By clicking on a name of one of the users following they can view their snap -AI. By clicking on the AJ- users can watch multiple snaps by selecting a few and selecting play.
Privileges and Limitations
User's content is temporary. Any content users share with friends can be timed. No content that you share or send to friend is censored. Any comments other users have about your content are private and only seen by you. Snapchat added a new feature that allows followers to send a users snap to other users without their knowledge but the snap still only last for the 24 hours from when it was posted and depending on the user's setting non - friends may not be able to see their snaps when sent. Users can not save any snap on your story or view again after those 24 hours. When a user message is seen they have to option to save the message or let it disappear. If the other party does save the message its shown as saved on your side as well. You have the option to clear those messages but it will still be saved on the other party's side. Users see everyone that has come into contact with their snap. Followers users names are displayed as viewers.
Privacy Settings
One of the most important privacy setting Snaphat has, is the ability to choose who can see your stories, who can send you snaps, or who can add you as a friend. Although a phone number is not needed to add a friend through Snapchat, a user is able to connect Snapchat through their contacts. Follows can only get a users information through either time or some one else that knows their username or snapcode. Users are able to see when thjey are being screenshotted and are notified. They also can see the follower that screenshotted username. Snaps delete after 24 hours so even if a follower sent an user's snap to another person it will delete after 24 hours. Users can choose rather their snap can be view by non followers.
User Interaction
Snapchat has changed quite a bit since its initial launch. What was once a seemingly simple app, has now transformed into a complex social media platform. Initially only for sending "disappearing pictures," it has now integrated features that allow the user to send messages to both individual people and as a group, post "stories", send user stories to other users, and they have even added a news platform, where you many media outlets provide content at the touch of a fingertip. They have also introduced the ability to use filters, that can be used for fun, or are sometimes tailored to location or an event near the user. Users can even contact Snapchat and have them create a custom filter for an event. Recently, these filters have also been used as a way of advertising. For example, when a new movie is about to launch, Snapchat will provide a filter tailored to that movie. This is used for products and other things as well.
Snapchat has integrated a media page, which is found by swiping the home page left two times. On this media page, the user can find many media outlets, such as The Washington Post, CNN, The Economist, and less aggressive news sources, such as MTV, E!News, or Buzzfeed. These news outlets also show up on the "Story" page, and both these pages give the ability to actually subscribe to any news source presented. Subscribing will pin the news source to the "Story" screen, so it will always show up on this screen. This news page has been quite controversial, having split feelings from its users. While some believe this is a great way to stay in the know, many users find it to be a nuisance to have this on the story screen. There is currently no visible option to not have these show up on the story page, other than downloading a previous version of the app. Doing so, however, will deactivate the use of the fun filters associated with Snapchat.
When swiping to the right, the user is brought to their "inbox", where snaps received are displayed. The user can tell what type of snap is received, by the color of the icon that is next to the sender's name. Blue indicates a message, purple a video, and red a picture. Each of these is displayed as a filled in box when the snap is received, and an arrow when it is sent. Both of these appear unfilled when the snap is opened from either party. Snapchat does inform the user when someone is "typing" a message, and when it is actually sent. While the user cannot save a picture or video that is received, unless it is screenshotted (Snapchat will inform the sender when a received snap is screenshotted), they do have the option to save a conversation or message, by pressing the individual message until the message is highlighted and saved. It is important to note that although a user may not want to save a message, if the other user saves it, it will stay in both of their message feeds until the user that saves it decided to delete it. Even if an entire thread of snaps is deleted, as soon as a snap is sent after deleting, all the saved messages will pop up again. Taking a screenshot of a conversation, will also send a notification of the action to the other user. Recently, the option to "group chat" was introduced, in which you can send messages to more than one person at a time, as well as the option to send users messages from their story, in which the picture or video that has been publicly posted will show up in both user's message feed, in conjunction to the message sent.
Snapchat has also included the option to send one users story to another user, that may not be friends with the original poster of the story. The user that originally posts the story will not receive notification if their story was sent to someone else.
Snapchat has also integrated the use of Bitmoji, an external app that allows users to create a cartoon of themselves. When connected to Snapchat, Bitmoji allows the user to use their bitmoji's on Snaps as stickers, or in messages like a normal emoji would be used.
User Connection
Users can connect a number of ways on Snapchat. Accounts can be public or private, and connecting with others varies on this option. With public account, anyone can send the public account pictures, videos, or messages, however they cannot see their story as this requires the user to add the user for which story they are trying to see. The user sending the snap to a public recipient must know the recipients snapchat name in order to send the snap.
Users with private accounts can add other users via snap code, a "scan-able" code that will automatically add the user if "scanned" on the application. To scan, the user simply take a picture of the other users code on the main snapchat camera screen. Additionally, users can add via direct snapchat username, phone number, users that are nearby, or contacts. For the contact option, permission for snapchat to access to contacts is necessary, and snapchat will then take numbers from the users contacts that are associated to snapchat and list them on the "Add Friends" page. The "Nearby" option, requires permission to use your location to suggest friends of other users with this option also turned on. If a user has a private account, a request to accept another user viewing their story will be sent.
Snapchat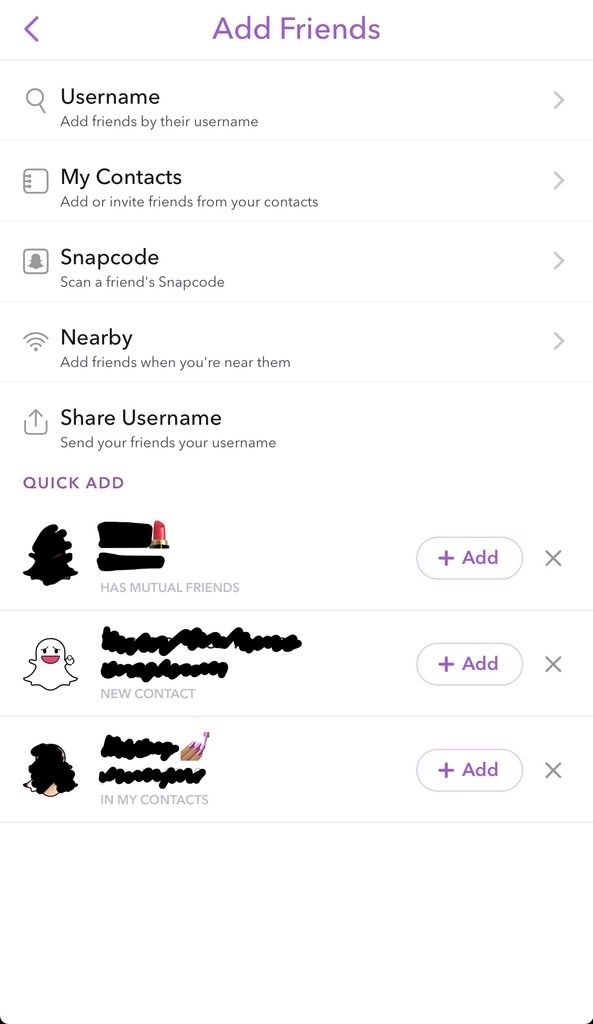 Snapchat
It is important to note that a user can add another user with a public account and not be added back. It is also possible for a user with a private account to accept a request and not add the user back. Not adding the user back will not allow you to send the other user snaps, even if they send you a snap.
Users can be deleted or blocked. If blocked, you will not be able to receive anything from the blocked user. It is possible to unblock the user.
User Implication
Snapchat's biggest feature is the disappearing image or video, which is arguably also their most controversial. The ability to send things for only a moment before they're lost, can allow the user to send less than desired images to its intended recipient. One of the most taboo uses being for sexting explicit images, videos and messages. Although Snapchat does state in their rules and terms of usage that they do filter through snaps for explicit images, and if caught can end up in losing a user account, the usage of Snapchat for this purpose still remains. Likewise, if a user leaves their account public, there is a high chance the user will gain explicit followers or receive an explicit, unwanted snap. After all, they do disappear after a maximum of 10 seconds. Although a recipient can screenshot, the sender will be notified of this action, as well as if the snap is replayed, lessening the chance of the recipient performing these actions.
Snapchat's new feature of sending others stories to users without the original poster noticing, raises a question of privacy. Although stories are posted publically or to friends only, depending on your settings, this new feature allows perhaps unwanted users to receive your story. The users must all be friends on snapchat for their snaps to be able to be seen, however, if a user sends another users story and the recipient is not a friend of the original poster, the story cannot be seen but the Snapchat contact details of the original poster. Because the snap story sends in message form, the story or contact info can be saved by the external user until the story automatically deletes for the poster after 24 hours. The contact info will remain saved.
Another controversial feature is the speed filter that has been provided by snapchat for some time. This filter gives an approximate speed for whatever activity the user is doing at the time of taking the snap. Snapchat gives a warning before putting the filter into use advising its users to not use the filter while driving. However, driving is most relevant in our day-to-day activities in relevance to speed, and therefore the worry of snapchat users being distracted while driving increases.
Snapping while driving in general, is fairly common. Popular social media influencers such as Youtubers and celebrities are often seen using Snapchat while driving, indirectly portraying the message that it is ok to use the app while driving. This is increased because posting a Snap story isn't a one button process necessarily, rather takes multiple steps, and takes the user's eye off the road for longer. While laws regarding phone usage while driving typically vary, the question of safety for those on the road remains.
page revision: 41, last edited: 11 Apr 2017 05:00